Opatija, Icici & Volosko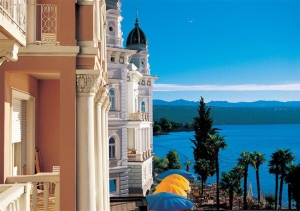 Opatija is a fashionable Adriatic tourist resort. In the past it was a summer and winter destination for the Austro-Hungarian nobility because of its mild Mediterranean climate, and today it is a place of luxury hotels, former villas and private summer residences that have been turned into beautiful hotels, wellness centres, congress halls, and swimming pools.
Villa Angiolina, one of the oldest and most beautiful buildings, has hosted many famous people. From then until today, Opatija has been a favourite destination for many tourists. The elegant shops, lounge bars and hotel terraces are like in any other fashionable destination in the world.
A walk in the well-tended parks and the seaside promenade (Lungomare – 12 km long) and a swim in the town swimming area or in one of the smaller bays offers the rare combination of being able to enjoy the charms of nature and a taste of the high life that reaches back into the spirit of the past.
Ičići is a famous tourist resort on the Opatija Riviera at the foot of the steep slopes of Učka. Today, it has almost merged with Opatija thanks to the extremely well equipped marina in Ičići, beaches, famous restaurants and lush Mediterranean vegetation.
In addition to the offer of a wide range of private accommodation, apartments, villas and campsites, as well as sports and recreational facilities (tennis courts, water sports – boats, sailing), nautical tourism here is particularly well developed. And just like every proper tourist destination, it can be proud of its beautiful long pebble beach…
Volosko, small town with mediaeval structure, climbed on the first relives of the Mountain Ucka, grows in enchants position on the Gulf of Kvarner, preciously set in that part of the Croatian coast that takes name of Riviera of Opatija. It is 70 Km from Trieste and it is easily achievable also in deep summer, when the road traffic is stronger.

Characteristics of Volosko are its decentralization and the weather extremely favorable, fresh and airy also in deep summer. The small town with its narrow and labyrinthine streets, with the little harbor and a lot of restaurants is placed at the beginning of the splendid Habsburg Walk that, for 25 km goes along the promenade across luxuriant gardens of exotic trees, parks, courtyard of villas of the nineteenth century and, in the hearth of the Riviera, across dancing terraces and restaurants on the sea.

Volosko beach
Volosko shores are two types, pebbles or typical terraces and rocks. There are, along the Walk, little artificial bays with low water and comfortable accommodations to enjoy the sun. There are little bay and inlet with pebble beaches, or, along the Walk, artificial "swimming-pool" and mortise with rocks. (see also "Lovran").