Kvarner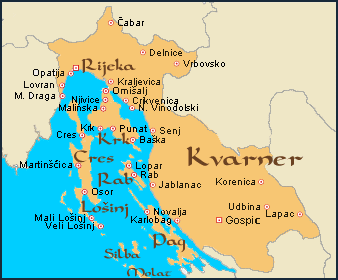 Kvarner covers the area of the mythical Absytrus islands and has unforgettable rivieras: Opatija, Crikvenica, Vinodol and Rijeka. Asides for being famous as the celebrated elite summer destination of the Austro-Hungarian monarchy, the coastal Rijeka metropolis is also here. The Kvarner islands are, however, a totally different story. Called the Absytrus islands, after Medea's brother Absytrus, the islands of Krk, Cres and Lošinj have a rich antique and medieval heritage. The Apoxiomen should definitely be mentioned here, a very famous bronze statue of an athlete found in 1999 in the sea near Lošinj, which was the work of the Greek sculptor Lizip from the 4th century B.C. The Baška tablet should also be mentioned, the first sculpted memorial of the Croatian language from 1100 found on the island of Krk.
Here the littoral landscape is practically in the immediate vicinity of the mountainous and forested region of Gorski kotar, the Mediterranean clime and way of life are first neighbours with the harsh mountain climate, while the world of a fashionable tourist resort boasting a150 year long tradition is so vastly different from the simple rhythm of the island life. Kvarner is a place where those seeking the glitter of trendy summer resort – like the lovely Opatija whose tourist tradition, parks replete with lush greenery and elegant villas, combined with the 12 km long promenade by the sea, attract guests throughout the year.
Perhaps you imagine an ideal holiday, one where you can set off from the shore towards sunny islands, and then sail back to seek the peace and quiet of a mountain peak. In the process you dream of a sun-bathed Riviera that can, should you so wish, be replaced within a span of 10 km by ascetic peace and fresh mountain air where you are in the company of eagles, wolves and bears, and where your lungs are filled with forest scented air. If that is indeed the case, then you are looking for Kvarner and Gorski kotar – separate parts of this small country that differ significantly one from the other.