Town of Makarska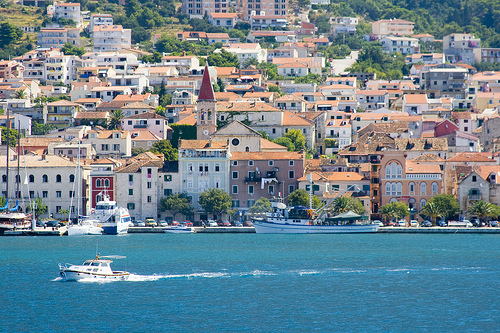 Makarska is a small town situated about 60 km south of the city of Split. It is located in a secluded bay between the Biokovo mountain and the Adriatic. It is a very popular tourist destination.
In ancient times there was a very important port connected to all the major ports on the Mediterranean. This is evident by the copper tablets found in Egypt that show the trade routes connecting to the location of Makarska.
In the Roman times the area was inhabited by veteran Roman soldiers. After the divide of the Empire, this area became part of the Eastern Roman Empire.
Much later these lands were annexed to the Kingdom of Croatia (in 12th century).
During the medieval times the area often belonged to different rulers, from the Croatian and Bosnian lords to the Venetians and Turks.
Tourism in Makarska has begun developing in the early 20th century. Today tourism, viniculture and growing olives are the main sources of income in this area.