Croatian Food/ Cuisine
Croatian Food – Simple, Delicious Cuisine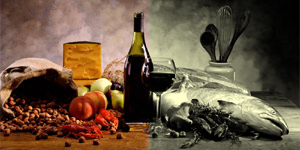 If you visit Croatia one of the best things you can do is enjoy the local cuisine. Croatian food is fantastic!
As in many parts of Europe, Croatians are passionate about their food and the result is a smorgasbord of different flavours and tastes containing fresh ingredients that will make your mouth water.
It's important to Croatians that food is fresh and prepared correctly. After you try some Croatian delights, you'll probably want to make them for yourself when you go home 🙂
Croatian food market Once you arrive in Croatia you'll find that dining in the country is a very relaxing and enjoyable experience.
The great thing about Croatian cuisine is that you can find very good food everywhere you go for a reasonable price. If you're traveling on a budget you won't have trouble finding delicious local food for very low prices.
The Croatian food differs slightly depending on the region in which you're traveling. For example, the cuisine is slightly different on the coast in comparison to the interior.
Coastal flavours are predominantly found in Dalmatia and Istria, while interior treats can be found around Zagorje, Zagreb, and northwestern Croatia. Slavonian cuisine from east Croatia is a third type of food you may encounter on your travels through the country.