Town of Lovran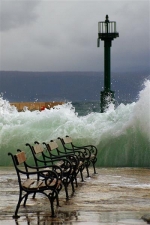 In the Middle Ages it was known as a town of seamen, fishermen and traders, and at the end of the 19th century Lovran turned into a popular tourist destination. It is named after the laurel (Laurus nobilitis), which grows in the village and its surrounding areas. In the hinterland there are the famous Lovran sweet cherry and marun [a high quality chestnut species] orchards.
Traditional events such as the Festivals of chestnuts, cherries and asparagus celebrate these tasty fruits from which many traditional dishes are prepared. Thanks to the lush Mediterranean vegetation and the salty air, Lovran has always been famous for being a health resort. The luxurious villas, former residences and summer villas of the former Austro-Hungarian aristocracy are now the highest-class hotels.
The coastal promenade (Lungomare), which is twelve kilometres long, runs between Lovran, Opatija and Volosko, and offers visitors memorable scenes of the coastal landscape. In the hinterland of Lovran, on the slopes of the Učka Nature Park there are well tended hiking and biking trails, places where you can fly, or diving centres on the coast.
One advantage of Lovran is to be found in its position, which enables you take take day-trips to some of our very beautiful national parks (Plitvice, Brijuni or Risnjak), the Istrian coast and its charming little towns, the islands of Krk, Cres and Rab, Postojna Cave in Slovenia, Venice, and many other places you can find out about by asking at one of the travel agents or at the reception of your hotel.
Marunada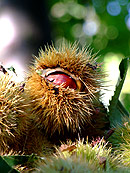 Marunada is the greatest yearly event in Lovran. Traditional gastronomic event offering assorted dishesand pastry made of famous Lovran sweet chestnuts – maruni. Here cames the name: Marunada. Beacuse of special climate, the Lovran's chestnuts are one of the most tasteful chestnuts in the World, and this is why this event is so special.
Marunada traditionally begins mid-October in Lovran and then migrates to the neighboring villages of Liganj and Dobreć in the weekends to follow. During Marunada, along with an offer of roasted chestnuts, a type of mead (domestic brandy made from honey) and young wine may be consumed too. In cafes and patisseries, pastries, sweets and cakes made with maruns will be available (chestnut cream, chestnut purée, chestnut ice cream, chestnut frappé, chestnut sorbet …), while in taverns and restaurants one may taste original domestic dishes featuring maruns (special dishes with chestnuts – turkey breast stuffed with chestnuts, cutlet au gratin with chestnuts, rump-steak with chestnut sauce, flaming crepes with chestnut cream …).
Every year, Marunada is accompanied by a series of sports and entertainment events, which visitors may participate in. Traditionally held during Marunada are a Lawn-bowling tournament, the "Giro di Marunada" bicycle tournament, a mountaineering excursion and the Adventurous Trekking Race "Učka Mountain Trek".