Island of Krk
Called the Golden Island since ancient times due to its mild climate, lush vegetation and favourable position in the Kvarner Bay, the island of Krk is the largest island in the Adriatic. Its proximity and connection to the mainland makes it an attractive tourist destination.
The island of Krk is the cradle of culture and literacy as visible by the many monuments, museums, sacral buildings, such as the medieval centre of the town of Krk, Baška tablet in Jurandvor, the Franciscan monastery on the islet of Košljun…
Thanks to the eco-projects and a systematic concern for cleanliness and environmental protection, the island of Krk is an island of Blue Flags, which fly in the towns of Krk, Malinska, Njivica, Vrbnik and Šilo and Punat marina.
Krk – a town and port on the island with the same name. Krk is also the managerial, administrative, cultural and religious centre of the island.
This former bishop's town has an extremely significant architectural monument – a cathedral, whose origins reach back to the 6th century. The old town, which can be entered through four town gates is surrounded by walls, which guard the valuable memorial heritage; there is a roman basilica leaning on the cathedral, there is a Frankopan castle from the 12th century as well as many profane buildings (Kotter house, Kanonička house) with valuable markings from the different periods. In terms of the many towers, the oldest is the four cornered tower of Kamplin built in the 12th century.
The newer, urban part of the town expanded outside the walls a long time ago. There are luxurious villas and summer residences which during the season offer tourists comfortable accommodation. The pretty pebble beaches, the many cultural entertainment events (the Krk fair that has an attractive maritime battle and others), excellent offer of food, the possibility of trips (Biserujka cave, Košljun island and others) make Krk an attractive tourist destination.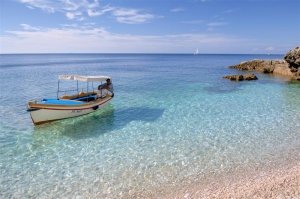 Malinska
A tourist destination in the northern Adriatic since ancient times, Malinska is one of Krks gems. Due to the mild Mediterranean climate it is suitable for holidays throughout the year, and because of the shallow sea and the weak sea currents the sea is extremely warm (25˚C).
The beautiful pebble and sandy beaches bathed with lush vegetation offer total enjoyment and are a real haven for relaxation. The highly developed tourist infrastructure offers a great selection of hotels, apartments and private accommodation, as well as a multitude of sports.
Its rich historical and religious heritage with valuable exhibits is preserved in the museum of the monastery Sv. Marija Magdalena [Mary Magdalene] in Porto. The Malinska Evenings, a summer cultural event, has revived the rich tradition and offers tourists unforgettable moments of fun and relaxation.