Peninsula-Peljesac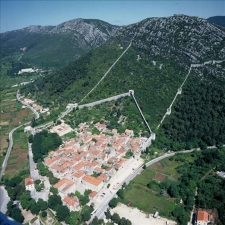 Pelješac is a peninsula in southern Croatia, in the Dubrovnik-Neretva county. It is around 70 km long and is connected with an isthmus at Ston. The Strait of Pelješac is located at its other end, and it divides the peninsula from the island of Korčula. Pelješac will be connected to the mainland by the Pelješac bridge in 2008.
Administratively the peninsula is divided into the municipalities of:
– Orebić in the western part, with 4,165 inhabitants (2001)
– Trpanj in the northwest, with 871 people
– Janjina in the center, 593 people
– Ston in the east, 2,605 residents
The town of Ston can be found on the second-largest peninsula in the Adriatic, Pelješac, and is a destination for tourists looking for quiet, clean sea and a true Mediterranean atmosphere. Thanks to its location right on the strip of land that connects the Pelješac peninsula with the mainland and its exceptional natural resources, this area has been inhabited since ancient times as is visible by the numerous first and second class cultural and historical monuments.
The monumental walls (5.5 km), the longest in Europe, and the beautiful, unspoiled natural surroundings are harmoniously combined with the urban architecture of Mali and Veliki Ston. Tourists are particularly attracted by the gastronomic delicacies of this region, which is reflected in the rich selection of mussels from bay Malostonski zaljev, especially oysters and mussels, and a selection of top quality wines from the regions of Dingač and Postup.