City of Zadar
Zadar is an ancient Mediterranean port city. The old town, surrounded by walls and towers on a peninsula, with a new, urban part is connected by a bridge, a symbol of the city.
Built on Roman urban principles, where there are several major longitudinal streets traversed by a greater number of latitudinal streets, give the city a rectangular shape. The old town is a treasure trove of archaeological treasures and monuments to the ancient, medieval and Renaissance periods. This is visible by a number of sacral and architectural monuments – the church of sv. Donat [St. Donatus] where every summer the sounds of Zadar's musical evenings echo, the Roman Forum near the main square, Kalelarga – the longest and widest street, the Cathedral of sv. Stošije [St. Anastasia], an Archaeological Museum with its exceptional treasures and many other monuments of cultural and historical heritage (town gate, Arsenal, churches, museums…).
In a city with the most beautiful sunset, in a maritime archipelago facing a multitude of islands and islets, which protect the city from the strong winds, enjoy the symphony of the Sea Organ and magical urban light installation Pozdrav suncu [Greeting the Sun] near the new harbour for cruise ships.
Zadar is a powerful cultural and economic city whose life is comfortable all year round, but shows all its splendour in the summer. Visit the traditional events or contemporary events like the full moon nights, Zadar dreams, Millennium jump, Kalelarga art… Enjoy the Mediterranean cuisine, taste the sweet Maraschino cherry liqueur, and take a swim from one of the sandy beaches in the Zadar area!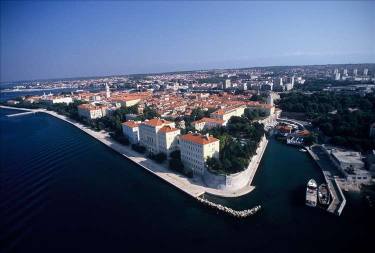 Welcome to Zaton, a small tourist town situated between two historic cities – Nin (2km) and Zadar (15km). It represents a unique combination of Dalmatian architecture, pleasant Mediterranean climate, unspoilt natural surroundings, rich cultural and historical heritage and a lively tourist everyday life.
The sandy beaches in the shade of ancient trees are ideal for families with children. Guests have a well-equipped campsite at their disposal, apartments and plenty of private accommodation and sports facilities. If you want to find peace, crystal clear sea, a clean underwater world, the shade of pine forests, an unforgettable sunset, then Zaton is the ideal place for your holiday.